Taking courses during coronavirus closures
We have been approached by a number of libraries who wish to use online training while public services are closed. Like everyone else in this difficult time, we want to help as much as possible, so last week we cut the prices of all our courses to enable more library staff to be able to take them. Click on any course to see the reduced price. This week, our team has worked flat out (from home of course!) to adapt key courses so they can be taken entirely online without needing any access to a library. Read more >>
Two Entry Level and two Intermediate Level courses can now be fully completed if staff are working at home. We have created virtual exercises which support skill development and stretch thinking as much as the originals do, but they use digital resources instead of talking with customers and moving books on physical shelves. On Entry Level, staff can keep in touch from home through the discussion boards while on Intermediate Level they have a personal relationship with one of our online tutors. Online training can help us all to manage the stress of this situation and keep our professional commitment alive while cut off from our customers. Click here to see the courses .
Library training solutions for whole teams & individuals
Inspire

individual staff and whole library services

Library work across school, college and public libraries is changing and staff need new skills. It's no longer enough to provide a service passively; it's all about engaging students and customers and offering a richer experience.

Opening the Book courses will inspire individual staff and whole services to meet these challenges. 20,000 staff have taken our training courses in many different countries; courses gain 99% satisfaction ratings from users.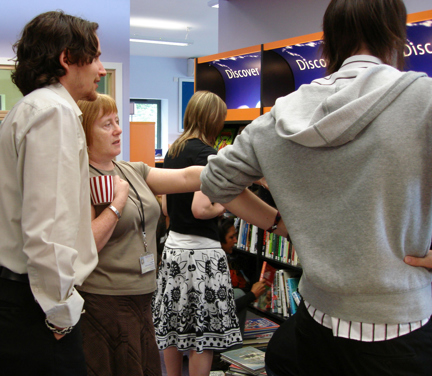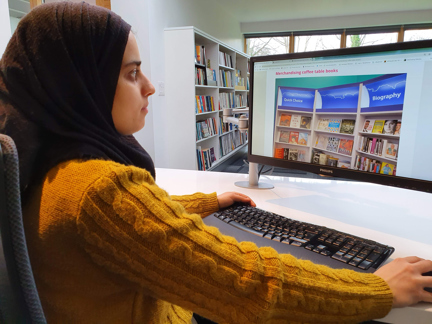 Proven
skills development
Opening the Book courses are proven to increase skills and confidence for staff working in libraries. This is not tickbox training, it is embedded in everyday library work routines.
There's a great mix of online learning techniques combined with practical application of tasks in your own workplace. Interactive exercises, slideshows, quizzes – plus key in your thoughts as you go to make your personal record.
Measurable

impact

140 staff took Intermediate level courses in a 3-year programme at Liverpool Libraries, UK. Their evaluation of staff experience found:
96%
felt more confident talking to readers
99%
understood how to target an audience for a book promotion
98%
more confident to create and run a promotion in their library
Expert
support
Online training can be lonely. Our staff are here to help. On Entry level courses, you will be part of a curated discussion board. On Intermediate courses, you will receive personal feedback on the work you submit. On Advanced courses you will have regular contact with a personal mentor.
All our courses are built and tested with real library staff in real library workplaces. Courses are managed in-house and any technical issues can be resolved immediately.
Unlimited

access

Study at your own pace and pick up where you left off whenever suits. Complete your course at a time and place that fits in with your other commitments.

Courses are not time limited – get places set up, take a look, then enrol when you are ready to start. Access is not closed when you finish. You can revisit at any time to check out something you've forgotten, pick up on an idea you didn't get time to try – or just to refresh your thinking.
Online training gives excellent value for money.
Cut out travel time and overheads associated with classroom-based learning.
We can advise on larger rollouts and undertake evaluative reports on the quality of learning.
Nothing else you can buy will give this impact in the workplace.